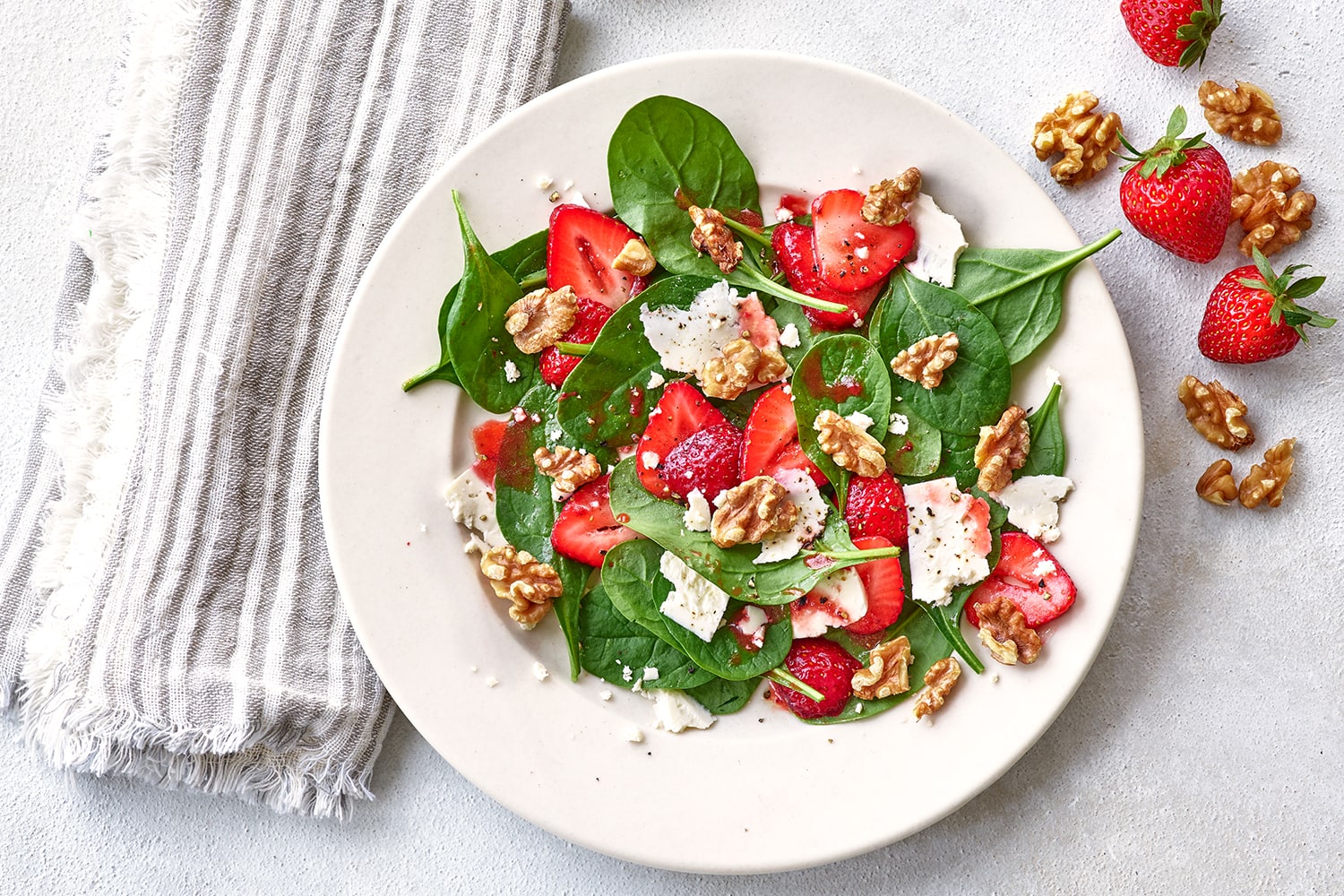 Now that summer is over, fall salads are becoming an everyday meal. Fall is all about fresh vegetables and fruits such as strawberries, pineapples, and apples. It is time to enjoy all the great produce the bounty autumn offers. Celebrate fall with strawberry nutrition during the crisp and cool evenings. Below are some fall strawberry recipes that are healthy and delicious.
Strawberry Salad With Balsamic
Fall season strawberries are juicy and sweet, with a drizzle of balsamic adding a fresh accent to the mixture. This strawberry salad uses only a few ingredients and has a blend of flavors and textures. It takes less than 15 minutes to prepare.
Ingredients
One cup of medium-sliced strawberries
Freshly ground black pepper and sea salt
A ripe avocado, pitted and diced
¼ Extra-virgin olive oil
One cup of sliced cherry tomatoes
A cup of halved mozzarella cheese
¼ cup of balsamic vinegar
⅓ cup of pecans, toasted
⅓ cup of loosely packed basil
Instructions
Add the balsamic vinegar to a small saucepan and bring it to a simmer over medium heat for 5 minutes.
Stir, reduce the heat, and simmer for 8 to 10 minutes till the vinegar reduces by half and thickens. Set it aside to cool.
Place the chopped strawberries, mozzarella, pecans, cherry tomatoes, basil, and pecans in a platter or shallow bowl. Add some olive oil and season with pepper and salt.
Drizzle the salad with the cooled balsamic vinegar to add a fresh accent, and serve.
Strawberry Avocado Salad With Poppyseed Dressing
Whether you need a colorful salad or a simple healthy lunch, the strawberry avocado salad with poppyseed dressing works for you. This delicious salad is easy, quick to make, and full of fresh flavors.
Ingredients
Salad Ingredients
One pint of sliced strawberries
One avocado, peeled and diced
Four ounces of crumbled blue cheese (feta or goat cheese)
Six cups of fresh baby spinach
1/3 cup of toasted and sliced almond
Half, small, thinly sliced red onion,
Read Also: What Types of Food Are Served at a Jamaican Restaurant?
Poppyseed Dressing Ingredients
1/3 cup avocado oil (or olive oil)
Two tablespoons of honey
Three tablespoons of red wine vinegar
One teaspoon of Dijon mustard
Sea salt and freshly ground black pepper
One tablespoon of poppy seeds
Instructions
Make the Dressing
Add all the poppyseed ingredients to a small bowl and whisk them vigorously until they are fully emulsified.
Season with a pinch of salt and pepper.
Toss the Salad
Add the salad ingredients to a large bowl and mix them evenly.
Drizzle the dressing and gently toss to combine everything.
Serve
Serve the salad and enjoy it with family.
Strawberry Pineapple Mint Salad
The fresh strawberry pineapple mint salad is refreshing and provides strawberry nutrition. Strawberries and pineapple are juicy fruits full of sugar, making this salad sweet. Take this after having a rich meal or spicy food to improve digestion.
Ingredients
Four cups of cubed pineapple
Two cups of fresh, sliced strawberries
A cup of green grapes
Three tablespoons of lemonade concentrate
Two tablespoons of honey
One tablespoon of minced mint
Instructions
Place the fruits; pineapples, strawberries, and grapes, in a large bowl.
Add honey, minced mint, and lemonade concentrate and mix thoroughly.
Cover the salad and refrigerate till serving.
Strawberry Mixed Fruit Salad With Lemon-Basil Dressing
Don't let this salad's dressing scare you away from trying it out. The strawberry mixed fruit salad is appetizing with a fantastic savory sauce. This salad is refreshing and perfect for fall.
Ingredients
Two tablespoons of lemon juice
1/4 teaspoon of salt
1/8 teaspoon onion powder
Dash pepper
1/4 teaspoon of ground mustard
A cup of raspberries
Six tablespoons of olive oil
Four teaspoons of minced fresh basil
One cup of cubed pineapple
A cup of kiwifruit
1/2 teaspoon of sugar
A cup full of blueberries
One cup of seedless watermelon
Instructions
Place the sugar, lemon juice, pepper, onion powder, and mustard in a blender and blend for a few minutes.
While still processing, add oil gradually.
Combine the fruits in a large bowl and drizzle the dressing.
Mix everything and refrigerate till serving.
Get Your Strawberry Nutrition from Salads Today!
Salads are a great way to get the health benefits of strawberry nutrition. Strawberries are easily paired with vegetables and other fruits such as pineapples, raspberries, melons, and grapes to make tasty salads. These salads are not only mouth-watering but simple to prepare. Make these cozy, hearty salads to enjoy with friends and family.