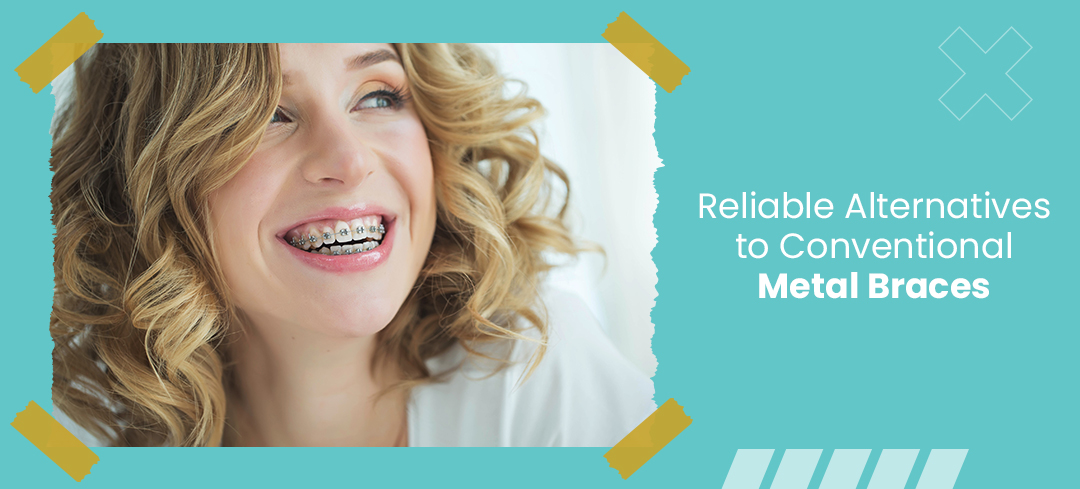 These days, people are more compromising to braces than that in the past. Popularity of modern discreet braces is overwhelmingly high compared to their traditional metallic counterparts. Even in the recent past, adults had a strong reservation for teeth straightening treatment because of the prominent metal brackets and wires that came with it. With the advent of modern discreet braces that reservation is completely gone. Now, an increasingly larger number of adults including professionals are eagerly signing up for orthodontic teeth straightening treatments.
Now you may wonder the reason of their reservation for the treatment.
The problem with conventional braces is that whenever you open your mouth to smile or say something, those shiny metallic rail tracks, brackets and wires get exposed. And this is the cause of major embarrassment. People will easily identify you as 'metal-mouthed'. In order to overcome the hurdle modern braces were invented. The new generation of braces remain totally discreet and practically invisible inside your mouth. That is why they are also called invisible braces. 
More About Invisible Braces

This range of orthodontic braces is strictly made from plastic. High plastic that is used is easily mouldable. Although they may not aesthetically be very appealing but every plastic braces makes use of cutting-edge technology and is highly efficient to shift your teeth as well as the jaws into their desired positions over a period of time. The aligners are customised with great precision to fit into your mouth perfectly.  
Why invisible braces are preferred?

There are many reasons why the overwhelming majority of people prefer invisible aligners over metal braces. However, all the reasons boil down to a pair of simple facts – comfort and convenience. 
If the ease of use and comfort are your top priorities, then you will definitely choose the discreet alternatives over the conventional one. 
You might also be interested in 9 Effective Ways to Keep your Gums and Jaws Healthy.
Subtle design – modern braces are also known as invisible braces; they are so discreet that they virtually remain invisible inside your mouth. It is practically impossible for anyone to detect them on your teeth. The braces are made from translucent plastic. Thus, the braces cater perfectly to the needs of professionals to wear to the workplace.
Easily Removable

Certain types of discreet braces are easily removable. While the goal is to keep wearing them 22 hours a day, you can take them off to eat or drink something and then you wear it back again. Removable braces also let you maintain optimum oral hygiene through properly brushing and flossing the teeth. In other words, you can easily stick to your regular diet while you are on modern braces treatments. Complete absence of dietary restrictions is yet another factor that fuels popularity of modern braces. 
Cutting-edge Technology Redefines Precision

Many invisible braces treatments make use of 3D graphics and digital technology to show you previews of your future smile even before the treatment starts. This is indeed a great booster for most patients to carry on with the treatment. In modern teeth straightening treatment every case is unique. With help of 3D technology, a thoroughly customised treatment plan is prepared for each patient. This not only guarantees accuracy but also impressive results till the end. Moreover, modern treatment procedures rely on electronic devices. This eliminates the need for moulds, whereas in conventional teeth straightening you still have to work with them. Moulds are not only invasive but are also pretty lousy in taste. Moreover, they are never always accurate.
Limitations of Modern Braces

Discreet braces are not suitable for one and all. Specially for those, who require a complex repair work conventional braces are more ideal than these. Moreover, compliance is crucial for modern braces to get expected results. If you lack commitment to wear the braces 22 hours a day, then discreet braces are not suitable for you either.
Alternatives to Invisible Braces

Invisible braces are not only easy to use but are also effective to deliver results faster. However, it has already been mentioned above that everybody is not suitable for these braces. If you have severely misaligned teeth then conventional braces are certainly the better option. Even people having seriously crooked teeth will be greatly benefitted by traditional orthodontics. On the other hand, metal braces are steadily providing an increasingly better user experience in recent times. They have undergone a drastic change in design with a more sleek and sophisticated appearance. Even in some varieties ceramic has already replaced metal completely. To cut a long story short, if you require a discreet tooth straightening device ceramic braces can easily be considered. The recent version of ceramic braces come in the colour of the teeth and are guaranteed to remain discreet inside the mouth. Ceramic braces work as efficiently as their metal counterparts in correcting complex cases and are aesthetically more pleasing and of course much less noticeable.
Metal or Ceramic Braces – Which One Works Faster

Time is a very crucial factor when it comes to orthodontic treatments. People want to have their dream smiles within the shortest possible time span. So, it is obvious that patients are anxious to know about the speed of their treatment while choosing between metal and ceramic braces. Generally speaking, metal braces are a little faster in delivering results than ceramic ones. But at the same time, you have to take into consideration other crucial factors like case complexity and severity of misalignment.  
Metal Versus Ceramic Braces – Conclusion

There exist a number of striking differences between the braces made of metal and ceramic. Metal ones are made from stainless steel brackets, arch wires and molar bands. According to orthodontists dealing in Invisalign braces, metal braces are designed to deliver consistent and evenly distributed pressure to straighten the teeth and resolve orthodontic issues. 
On the other hand, ceramic braces are made from translucent ceramic brackets and a white wire. These are aesthetically more pleasing and discreet but are also easily prone to breaks and damages. However, both require routine adjustments and they shift the teeth gradually. Ceramic ones are more costly than metal ones. Moreover, ceramic braces are usually not ideal for teenagers or individuals involved with contact sports.