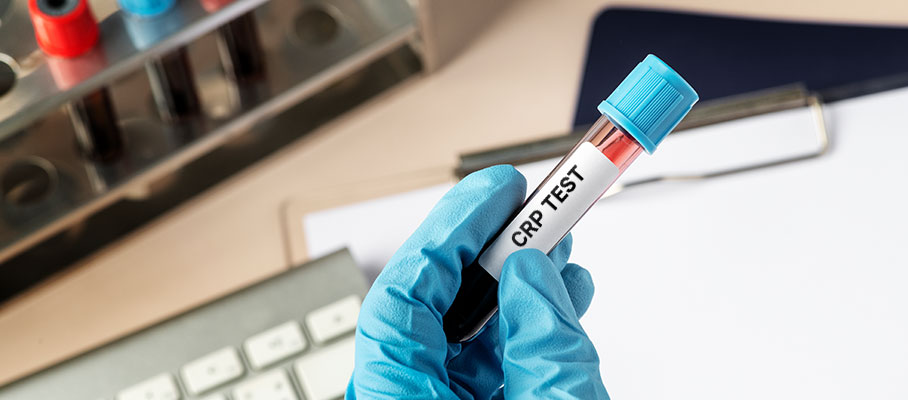 CRP or C-reactive protein is a substance that is created by the liver and is linked to stress, a socioeconomic indication of heart diseases, and chronic inflammation. 
Usually, inflammation is a process through which the body's tissues are protected when either injured or exposed to some type of infection. This inflammation results in redness, pain, and swelling are formed around the affected area. 
Sometimes due to some chronic diseases and auto mine disorders, inflammations are caused. A CRP test helps to measure the CRP level or the C – reactive protein level in the blood of a human being. 
C-reactive protein test: Why it is done?
If there is an inflammatory disorder in the body like an infection, arthritis, cancer, etc., and the doctor suspects the same, then they ask for the C-reaction protein test. The CRP test will help to detect the level of inflammation in the body. However, it does not see where the inflammation has occurred or what the following effects of the same inflammation are.
Suppose someone has already been diagnosed with inflammatory tissues. In that case, doctors ask for the CRP test to be conducted at regular intervals to understand whether the treatment process is working or not and also if the complications are being appropriately addressed. 
Note that when a high sensitivity CRP test is conducted, the test is a bit different than the standard CRP test, and the CRP test price differs too.
What are the Symptoms of High C – reactive protein?
The several symptoms of the high C-reactive protein levels depend entirely on the primary conditions that are causing them. Many individuals who have suffered moderate injuries or infections, or situations causing chronic inflammation might also have the same symptoms. These symptoms are as follows:
Having difficulty in sleeping or is insomniac
Going through unexplained exhaustion
Having soreness, muscle stiffness, and weakness
Getting frequent a headaches
Having loss of appetite, nausea, and indigestion
Suffering from low-grade fever
Unexpected body pain
Going through unexplained weight loss
Sudden chills
Individuals suffering from high C-reactive protein are prone to have some sort of acute bacterial infections. Symptoms of such acute conditions are as follows:
Rapid heart rate
Frequent loss of consciousness
Dizziness or lightheadedness
Hives or rashes
Chills, shaking, or uncontrollable sweating
Parched skin, lips, and mouth
Facing difficulty in breathing
Bouts of severe headache, body stiffness, soreness, and pain
Suffering from high fever
Frequent bouts of persistent and uncontrollable vomiting, diarrhea, or retching
What is the procedure of a CRP test?
A medical professional takes a blood sample from the vein in the arm using a small needle. Once the needle is inserted, a minimal amount of blood is collected inside a vial or a test tube. The entire process is a maximum of 5-7 minutes. 
To Conclude
A standard CRP or a CRP test is used to detect the CRP levels in the body. A person having a high protein level indicates that they are more inclined to have some cardiovascular disease. 
Thus the treatment should be conducted accordingly. Also, several conditions might cause moderately raised protein levels or mild raised protein levels. However, high protein levels are easy to interpret, and hence, doctors recommend for CRP test.