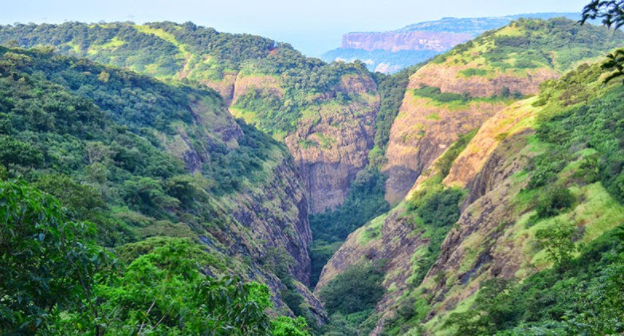 Andharban, as its name implies, is a Dark Dense Forest. This walk is one of the most invigorating treks in the Sahyadri during the monsoon season. It is the most stunning feature of the Sahyadri range, which connects the Tamhini Ghat to the well-known Konkan region. Andharban trek is located in the Pimpri region of Maharashtra, roughly 16 km from the well-known city of Pune. It is ideal for trekkers who want to enjoy the delight of walking deep jungles with breathtaking vistas. Imagine traveling through the jungle's nature trails, surrounded by the sounds of rustling leaves, song birds tweeting, insects buzzing and gushing waterfalls flowing over the rocks.
How to Reach
By Roadways: Lonavala is around 50 kilometers from Pimpri village. To go to Lonavala, you can take a taxi or a bus. Take a cab or a bus to Pimpri Village from there. If you're flying in from Mumbai, get a self-drive automobile. Trekkers who are not traveling from Mumbai or any of the cities west of Pimpri should fly to Pune and then book a private taxi to Pimpri village.
By Railways: From Mumbai, many trains depart for Lonavala and Pune. The Pune Intercity, Deccan Express, and Udyan Express are all good options. If you're traveling from the north, the Hazrat Nizamuddin Express is a good option. The majority of trains from South India to Mumbai make a pit stop in Pune.
By airways: You can fly to Pune, which is accessible by flight from most major Indian cities, and then take a cab to Pimpri.
Best Time to Visit
The journey to Andharban is open all year. The finest time to hike in these gorgeous western Ghats is during the monsoons when absolutely desolate mountains turn into lush green fields. Consider doing this hike between June and September, when everything is colorful, fresh, and green. Trekking in the Andharban forest during the post-monsoon season is also a good choice, as the woodland remains deep, with extra winter chills and mystical air.
Level of Difficulty
This trekking journey is said to be a moderate to difficult level trek, it's a majorly descend trek for most the people like visitors or trekkers.
Things to Carry
It is necessary to dress warmly. Caps that are both woolen and sun-protective. Carry ready to eatables like plum cakes, packed snacks, and dry fruits, etc. Wipes and toilet paper are to be carried. Pack a day bag and a backpack. The second set of socks is to be packed along with the other accessories. Raincoat and also Windcheaterand would recommend you to please avoid umbrellas. Personal care things which you need, medicines as per the doctor's recommendation which you require usually. Thermals and fleece jackets, when needed, to protect oneself from extreme cold. Hiking shoes are required. Woolen inners, such as a cap, socks, mittens, and scarf, are manufactured of thermoplastic. Face masks, sanitizer, and a face shield from Covid.
Things to Know
Andharban trek is not advisable for women who are pregnant for more than three months, those who have a broken leg or arm, those who have had major surgery, those who have neck difficulties or chronic back, and so on. Before and after the workout at the trekking spot, see that you avoid consuming heavy foods or alcohol that matter your health. The Andharban monsoon hike is ideal for anyone aged 16 to 60. For the trek, it is recommended that the travelers pack light. Floaters and sandals are not permitted on the journey, so you must wear decent-quality trekking shoes.
Places to Visit
Lavasa: Lavasa, located two hours from Pimpri village, offers gorgeous and elegant spas and resorts, as well as a variety of adventure sports such as ziplining, swimming, lakeside kayaking, and jet skiing. Also, pay a visit to the Temghar Dam.
Attractions of Tamhini: this place is just a few kilometers from the village of Pimpri, after which you can visit Hemant Waterfall, Tamhini Ghat View Point, Tamhini Waterfalls, and later add the Valley Trek, and Devkund Waterfall, as well as Tamhini Hill Top.
Lonavala: You may see magnificent sights like Sudhagad Lake and Takmak Point, Ekole Valley View, Morgiri Fort, Shivling Point, Korigad, Anghai Fort, Thanale Caves, Sarasgad Fort, Tung Fort, Lonavala Lake Waterfall, Bhushi Dam, Lohgad Fort, Kune Falls, and Bhorghat on the Lonavala-Pimpri road.