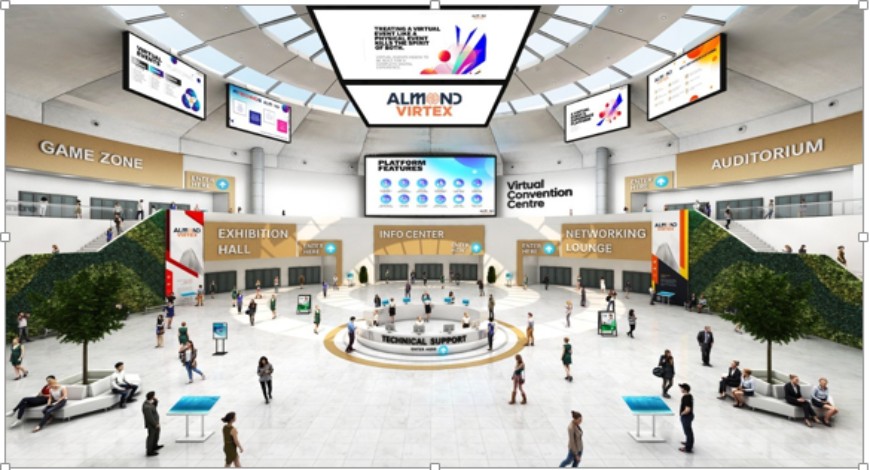 It has been an extended time since the virtual event platforms came into popularity. The concept of hosting online events has gained matchless prevalence amongst diverse industries as the world is now choosing virtual format over physical events. However, it is so because every organization, including the event organizing platforms, has acknowledged the benefits of taking significant events over dynamic virtual event platforms.
Going a little more in-depth, virtual event platforms are capable of organizing all sorts of events for your organization. From virtual town hall meetings & virtual conferences to the virtual exhibitions & award shows of your company; hosting all types of events is possible over a virtual event platform.
Top 12 Benefits of Using a Virtual Event Platform
In this blog, we have curated some of the top benefits of using a virtual event platform to help you gain a better insight into online venues.
#1 Host Multiple Content at the Same Time
Unlike an on-site venue, virtual event platforms help you organize multiple sorts of sessions & content at the same virtual venue. An online event service provides you with the opportunity to organize multi-format content & sessions at different venue locations. For example, you can have your virtual conference running in the virtual conference hall while playing a video-content over the lobby area and an exhibition through the beautifully designed exhibit booths. While it is not impossible to arrange these components at a physical event, the point is it will keep adding to your expenses. Whereas an online event platform renders you with a comprehensive set of features all-in-one.
#2 Improvise Networking Benefits
A virtual event service provides the users with the most innovative networking tools & features to level up the essence of your event. Your attendees always have an aim to generate more leads, maximize their reach, and connect with their prospective allies. However, shifting to a virtual event means eliminating the possibility of directly catching up with other participants. But, networking has become even better with the tools provided at a virtual venue. Mentioned below are some of the top networking features provided by an advanced virtual event platform:
B2B Meeting Scheduler
Business Card Exchange
AI Matchmaking
Networking Tables
Advanced Search Filters
#3 Engage Your Participants
Be it an event of any format, engagement plays a vital role in every case. It is so because attendee engagement is one factor that can actually make or break your online event. Another fact to consider is that the audience has a way lesser attention span while attending an event or meeting virtually. However, a virtual event platform is well-equipped with countless engagement features to ensure a memorable event experience for your attendees. Mentioned below are some of the top engagement tools present at an online event platform:
Fun gamification
Photo booth
Social wall
360-degree immersive environment
Signature wall
Multi-format communication
On-event announcements
Pop-up notifications
Emoticon reactions
Live polls and Q&A sessions
And everything more you prefer
#4 Customize the Event
Another excellent benefit of a dynamic virtual event platform is that the user gets the opportunity to customize the event based on their preferences. The customization benefit of a virtual event service helps you personalize the experience for your attendees. Also, it enables you to create the design and environment you require. Not just this, but a platform also has a pre-designed template that is well-designed while keeping the audience in mind.
#5 Maximize Your Reach
The most valuable benefit of an online event platform is the maximized global reach. While through the traditional format of organizing events, you can only invite a limited number of attendees, a dynamic virtual event platform give you the opportunity to reach a countless global audience all at once, without any limitation. Also, this comes with the lowest cost and no extra expenses.
#6 Enhance Value for Sponsors & Exhibitors
The customizable properties of a dynamic virtual event service allow you to design the venue according to your needs and requirements. Well, this feature also includes the capability to integrate sponsorship and exhibition aspects. You can seamlessly present advertisements, branding, logos, and other components at your online event. Not just this but you can also bring more value to your event by creating captivating exhibit booth designs and integrating effective exhibitor and sponsorship aspects.
#7 Reduced Costs
Another incredible benefit of taking your event virtual is the exceptionally reduced costs. By hosting your event virtually, the requirement of various arrangements reduces to a great level. With a virtual event platform, you don't have to arrange any form of physical location, venue, logistics, decorative items, travel costs, and every other aspect costing you a lot. It is so because a virtual venue arranges for every single component of your event without you having to worry about any part of the arrangement.
#8 Facilitates Feedback
With the help of a dynamic virtual event platform, you can easily collect valuable feedback from all your attendees. While at an on-site location, gathering each attendee's honest review used to be quite a task, a virtual event platform makes it exceptionally easy to collect feedback.
#9 Easy Lead Retrieval
Lead retrieval has never been so easy! Getting on board with a virtual event platform helps you gather proper attendee data that can further help you in getting in touch with your prospective allies or customers.
#10 Offers Flexibility to Your Participants
While at an on-site event, the participants feel bound to not leave the venue they are attending the event in, a virtual venue renders them the chance to leave the event if they don't find it valuable. Although this can be a loss for the organizer, the fact is that this benefit maximizes the participation and get you more data of the target audience.
#11 Saves Your Time
By organizing your event with the virtual event platform, you don't have to stress over any arrangement or preparation. And, this benefits you with a lot of saved time. Also, you can use this time to promote your event effectively.
#12 Event Data-Based Analytics & Reports
Last but definitely not least, a virtual event platform enables the users with valuable event analytics and reports. Through this data, you can not only analyze the success of your event but also prepare for your future events.
Choose a comprehensive virtual event platform that renders you with the mentioned benefits and host a matchless event!