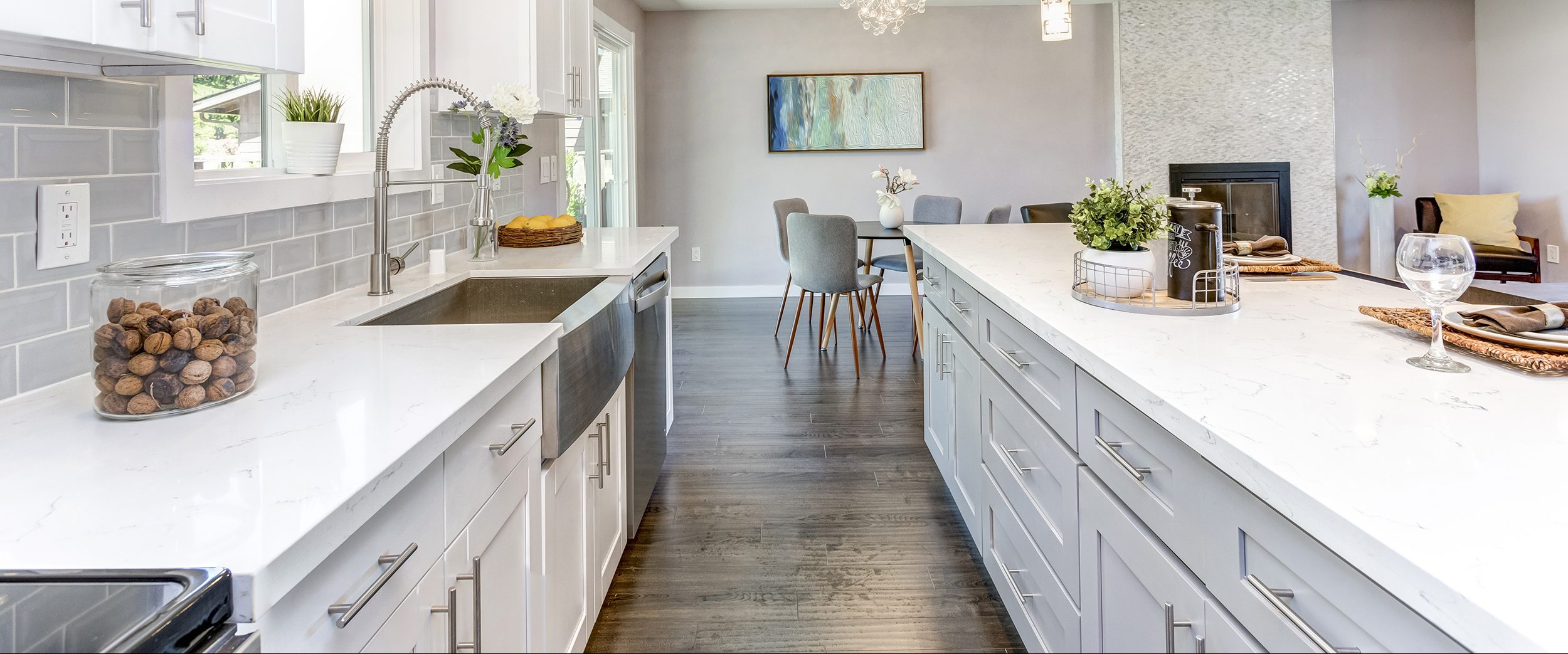 An open-concept kitchen combines the kitchen, living room, and dining area into a cohesive space. This design can be a good option if you are looking for an elegant and functional kitchen. Here are the benefits of an open kitchen remodel:
More Natural Light and Airflow
With an open-concept kitchen, you have no walls separating your kitchen and dining room. Without walls, light can travel between different rooms and your space can appear brighter and airy. Using lighter colors on cabinets and countertops can also help reflect natural light to illuminate your home.
When natural light enters your indoor space, the space becomes more inviting. During the day, you can rely less on artificial lighting, leading to lower energy costs. With few or no interior walls, air can circulate in your home more easily due to fewer obstructions.
Improved Social Interaction
Combining the kitchen, dining, and living areas into a single space allows you to entertain guests and family members while cooking. You can also keep an eye on your kids and pets while in the kitchen. An open kitchen remodel can have a kitchen island with bar stools that allow your loved ones to interact with you while in the kitchen.
Experts can modify your countertops to include more space for cooking with family and friends. The open-concept design allows people to move around and socialize in different parts of the house. You may be able to fit more people in the space to increase interaction opportunities.
Increased Home Value
Open-concept kitchens have become a popular design due to their practicality and aesthetic appeal. Prospective home buyers may prefer this design since it's a modern trend. This kitchen style can also open to an outdoor space using expansive doors, making it an attractive feature to home buyers.
An open kitchen plan can also create an illusion of a bigger space, which can attract buyers. Your home's resale value may increase when you have an open-concept kitchen. Talk to your remodelers about other ways you can increase your home value during your remodel.
Complete Customization
You can work with experts to customize your open kitchen plan, based on your needs and lifestyle. You can decide how your flooring, storage spaces, and appliances should be positioned. You can choose U-shaped, L-shaped, or G-shaped kitchen layouts based on the available space.
Customized lighting like pendant lights and recessed lighting can also transform the feel and appearance of your kitchen. If you have outdated countertops and appliances, you can upgrade them to match your new kitchen style. You can also select different materials, such as wood, natural stone, and concrete to enhance the open feel of the new space.
Invest in an Open Kitchen Remodel
An open kitchen remodel can open up your space and improve the flow of your home. This design can be a good addition to your home since it can improve the visual appeal and resale value. Work with reputable designers who can offer quality products and bring your project to life.