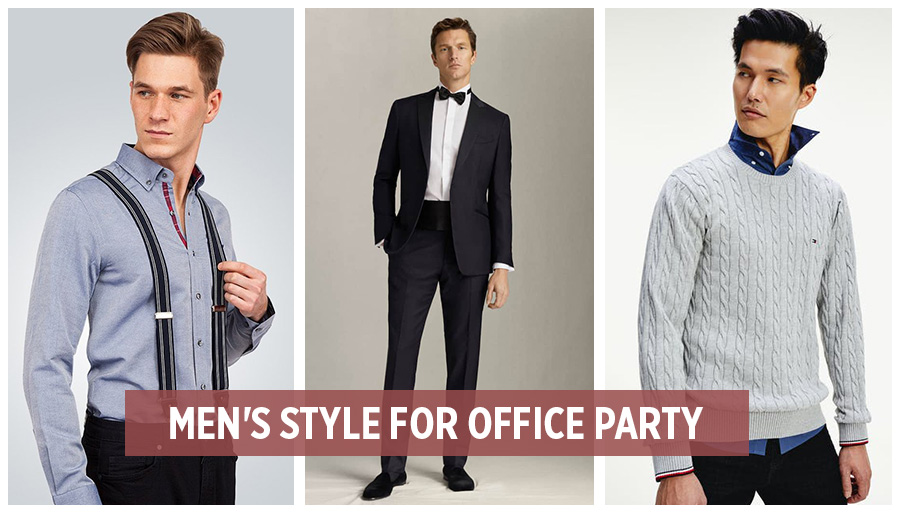 Good dressing is a sense of better taste. It reflects your personality and makes a better impression on people you meet every day. 
Wanting to look good gives out energetic feels and improves your performance. Without looking too flashy, below are the tips that help you get noticed through your dressing ways.
 It's always good to wear something easy and simple. That makes you look better-dressed and brings out a better version of you, so keep it simple and casual. 
Here are the 8 casual party styles in the menswear collection who want to look sharp outside of a suit and tie.
1. Stop dressing like a teenage boy
I believe you are a grown up guy. Dressing casual style at the wrong angle may aim to look youthful. 
Whereas, dressing up maturely needs to be well-dressed, attractive looking and should set out quality standards for you. 
It should separate men from the boys!
Matured dressing shows masculinity and commands respect. Additionally, it reveals qualities that you want people to see in you. 
Avoid flashy outfits that have cartoons or logos, or anything with slogans which are so inappropriate for the party. 
2. Pay attention to the fitting
Fit makes a big difference when it comes to men's casual wear. It is not that you have to look tailored all the time but make sure your clothes fit you. 
Fitting in your outfit is one of the most important aspects in men's clothing especially when it comes to casual parties. If you own a muscular body, fitting becomes essential otherwise a basic fitting shirt will be good too. 
Make it a priority to get your shirts tailored and do not be too obvious about your muscles or this will make you show-off.
3. Avoid prints to look like a man
The first thing you should do is shed your boyish t-shirt taste. Give on the graphics and flashy prints.
You know why you need to stop wearing them? Because they make you look funny and people might have misunderstood you as an immature and least serious man. 
As your dressing is reflecting your personality you need to be edgy and original. You need to look unique and classy so you seem like a matured guy. That will avoid you from blending into the crowd and your impression will last longer.
4. Wear Comfortable clothing
This is useless and also costly to invest in trendy sweatshirts and jackets if they are not comfortable. Wearing comfortable clothes are very important, they feel right to you. Because if you are not okay and feel self-conscious then this uncomfortability will show up on your face no matter how hard you try to avoid it. It won't even matter after, that how much money you've spent on quality clothing.
5. Wear the jeans that is matching your outfit
Jeans are go-to legwear in every casual party for guys. It's a great thing for them, match them with any interesting shirt and you are almost ready. Many men think they should get rid of t-shirts and jeans but they haven't got any better alternative yet. Also I believe if there will be any competitor to jeans it won't be doing so well. Jeans look amazing as long as you are wearing it the right way.
To pick the perfect jeans you should watch out for your body type first. If you are an average person with the right physique, for the casual avoid baggy and big logos jeans and any fit will suit you until you are carrying it the right way.
Else if you are skinny or obese, straight fit is probably your best option. Also, avoid skinny jeans as they will prominent each curve on the legs and that may look odd and make you uncomfortable.
Keep your jeans simple, go for bright colors which fit works best for you.
6. Keep this less hectic!
As mentioned previously, minimal styling isn't trendy expensive clothing. But anything that is clean, good and expresses your right personality out. Go for simple, anything that is paired with your watch and shoes and it's cool if you wear an aromatic perfume as well. So do not worry about simple means of expensive brands and also it is not the plain. But building a menswear casual collection by combining easy, simple and straightforward garments that take less effort to style.
7. Dress down slacks
A smart casual occasion is an opportunity to separate your look into a less buttoned up way. If you want to wear a suit for this, lose your tie and keep the top button opened for a less formal look.
Be sure about your dressing when leaving for a casual party, remember it is always better to overdress than underdress. Consult with the host if they are following any theme or this will become easier for you if it is sure how big an event is and who are the special guests. They will appreciate your respective dressing sense. 
8. Step out with denim
Denim is always the quality casual party menswear. Dark wash denim in a stylish and slim style maintains a deeper casual feel than other outfits. A dress or pants and shirt elevates your style and gives a finishing polish. Although jeans and a suit isn't a good idea, wear this with a casual button-up shirt and sport coat or sweater. Put on your sneakers and must have a watch and glasses.
Denims are acceptable most times but for the casuals, always! Well fitted jeans should be the top choice when deciding what denim to get.
Dark denim is easy to match and easy to go with every color. Unfaded indigo or black jeans make your outfit look instantly more appropriate for breakfast, lunch or dinner.
Final Words
These are just some of the ways for men to dress up. However, there's more to unfold. You can even do your own magic by mixing up the outfits. Matching the accessories with your OTD is also a must if you are trying to standout. But all these doesn't come cheap, it comes with a hefty price especially if you are wearing flashy brands. But you can avoid all this, and be light on your pocket by simply using discount offers to save on your outfits. 
Just hop in the clothing store, pick whatever you like, try it on and go out with it. Be sure that you are comfortable wearing that outfit and suits you the best.