Do you want to increase your conversion rate and expand your company? Are your conversion rates decreasing, but you're not sure why? We'll talk about how to improve form conversions using WordPress Forms in this article.
If you want to build your business, improving form conversion rates is critical. Something needs to change if the number of people filling out your forms is decreasing.
The finest WordPress Form Builder plugin is ARForms. It is completely free to use!
Form conversions should be your main focus, whether it's a contact form, an order form, a survey form, or something else entirely. Even if someone doesn't buy or sign up for a membership at the end of your form, if they abandon it, there's a significant risk they won't buy from you again.
That's awful news for you as a business, but you wouldn't be alone. Abandonment of forms is extremely prevalent. After filling out an online form, about 80% of users abandon it. Can you honestly say you haven't done something similar at some point in your life?
It's critical to understand why you or anyone else abandons a form so you can take actions to resolve the issues. The top two causes for form abandonment, according to The Manifest's research, were security concerns (29%), and form length (27%).
Forms that are excessively complicated, involve too much effort to fill out, or fail to retain user incentive to complete are some of the other causes.
Here we will discuss some of the most common reasons for form abandonment, as well as how you can increase conversion rates.
Let's have a look at some important points to mind while you are working for good conversion rate improving strategies. Following are the tips to apply with your forms:
1. Keep Your Forms Safe
Form security is your job as a website owner, and it should be a top priority. Clients want to know that the information they give you will be kept safe, especially if they're giving you payment information.
You can take many actions to improve the security of your forms. First and foremost, you must guarantee that your website is HTTPS-enabled. If you're still utilising HTTP, the 'Not Secure' notice will appear next to your URL. Visitors to your site may not feel confident when they visit this, and it could be contributing to your decreasing conversions.
2. Forms Should Be Kept Short and Basic
You may have intricate business requirements that your forms must meet, but the last thing you want to do is overcomplicate things. Because a pleasant user experience leads to increased conversions, it's always best to create straightforward forms.
The more confusing and lengthy the forms are, the more probable it is that individuals will abandon them. Only ask the questions that you absolutely must have answered in order to obtain the information you require.
Read Also: Custom YouTube Widget: Add YouTube Videos on Website
That means forms should be brief and sweet, as well as simple to navigate. Use multi-page forms only if you absolutely must or if you can compensate them for their time. It also helps to allow users to save their progress and continue later while using many pages.
If you need customers to enter a lot of data but want to keep the form brief, repeaters are a useful tool. Users can add as many form fields as they need with Repeaters, but the form is kept brief for those who don't.
3. Motivate Individuals and Keep Them Interested
We're all busy, and there are 101 things we might be doing instead of filling out web forms.
Improving conversion rates requires a different approach to incentive. You must provide users with a compelling incentive to complete your form. What will they be missing out on if they don't participate?
Offering something for free is the most prevalent technique to motivate people. For example, in exchange for an email address, you may provide a free online course, ebook, or participation in a competition. This is a really popular lead generation technique, and for good reason: it's very effective at getting people to take action.
Forms that automatically fill in details are always liked because they make forms easy to fill out.
4. To get better results, use smart forms
No one wants to waste time filling out online forms, and you certainly don't want to create and manage them.
Building smart forms that handle some of the work for you is a straightforward approach to make everything easier.
What distinguishes a smart form? We're talking about things like conditional logic, automation, and seamless app integration.
Conditional logic allows you to keep the form concise and to the point. For example, based on a user's previous responses, the form will only display fields that are relevant to them.
Whether it's transferring form entries to a spreadsheet or sending out confirmation emails or SMS messages once a form is submitted, automation can save you a lot of time.
Another feature that makes use of automation is cascading lookup fields. It allows forms to automatically populate fields with data from other forms, saving users time. For example The Model field only displays Models that are related to the Make that has already been selected. This information is gathered from another form so that consumers aren't forced to wade through models that aren't relevant to them.
Using ARForms Forms with Zapier opens up a world of automation possibilities, making it much easier to use different apps together.
5. Increase form conversions by increasing visibility and graphics
It doesn't matter if you have the best forms in the world; if no one can find them, it's all for naught. This means that the location of your forms is just as essential as the content of the forms.
Your forms can be placed on contact form pages, sidebars, footers, pop-ups, and links in direct emails, among other places. Use different places to put your forms but it can attract the user's eye to fill it out.
It can also help if your forms are attractive or contain anything visually appealing. You could, for example, work on a beautiful form style that includes graphics or embeds a Google map. All of these can catch the eye while also conveying crucial information.
If you want your internet forms to convert successfully, consider using a prominent call to action, radio buttons, or well-designed landing pages.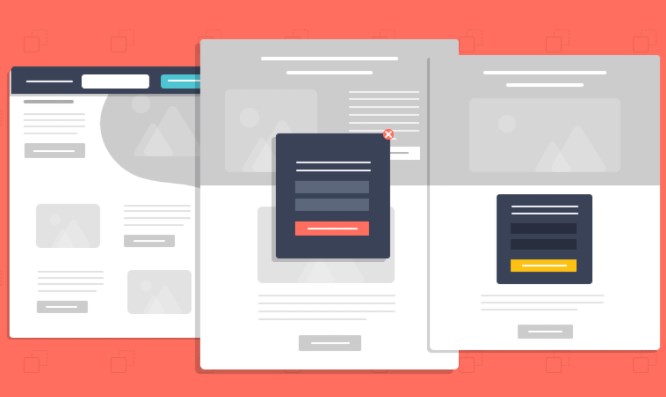 6. Keep track of your form's progress
After you've put in all of the effort, it's time to see if it's all paying off. It's critical to track your form analytics and leads to understand what's working and what could be improved.
Final Thoughts on this
We hope that these pointers and lessons will assist you in increasing form conversions. These tactics can completely revamp your WordPress website and increase the number of users that click the "Submit" button.
Thank you for reading the write-up and request you to share on social media platforms to reach out to needy ones and show your support.