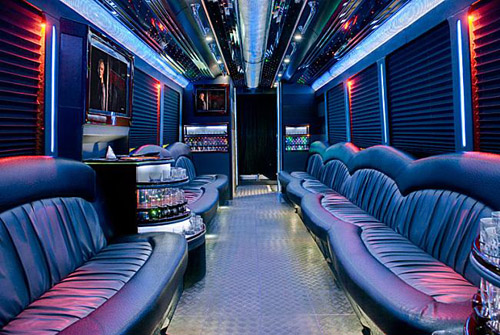 You can find good deals on party bus rentals with proper research and planning. Booking a party bus with enough advance notice can also help you find the best deals. Here are a few of the factors that can affect the cost of party bus rentals: 
What Influences the Cost of Party Bus Rentals?
Booking in Advance 
If you're looking for the lowest price, booking a party bus in advance can potentially save some money. The longer the rental period and the earlier you book it, the cheaper it can be. Try reserving one at least two weeks in advance so the company can plan accordingly.
At peak times like New Year's Eve, people need more buses than usual because everyone wants to be able to travel in style. Booking ahead of these peak times could help you get a good deal and ensure they are not booked out.
The Size of the Bus
The cost of the rental also depends on the size of the bus. The larger the bus rental, the more expensive it will be. Get a head count in advance to know how many people to plan for. Larger buses will often have more amenities which are usually included in the overall cost. These amenities can include things like seating, a sound system, a wet bar, and a dance floor. Consider how many people you want in your party bus rental and what size vehicle would best suit them. 
The Travel Time
The longer you travel, the more you pay. You can use a party bus for sightseeing, then return it to your home base when it is due back. You can also just use it for one night to travel to an event and back. The farther you take your group, the more expensive the ride. Depending on the company, party buses might not cover their gas expenses, so that is another point to factor into the total cost. 
The Length of the Rental Period
The cost of renting a party bus varies based on the amount of time you rent it out. It will be more expensive to keep the bus for a few days as opposed to just using it for a few hours. You may also have to pay extra if your reservation changes or extra passengers are on board at pick-up time.
Splitting the Cost 
Splitting the cost means lower prices per person. You can split it with your group if you know in advance how much it costs to rent your party bus. Everyone planning the event can save money by sharing rental fees.
Try Out a Party Bus Today
Take all these factors into consideration when deciding if you want to rent a party bus for an event. Booking your rental in advance can help to alleviate the last-minute stress of trying to make something work. It can also help you to potentially save some money. Do your research and find party bus rentals to make your next event with friends or family more exciting.